Svatko tko je imalo ljubitelj oštrog južnjačkog metal zvuka čuo je za Concrete Sun, perspektivni peteročlani novosadski bend koji je svoj album prvijenac "Sky Is High" izdao 2011 i pokazao da misli ozbiljno pokupivši jako dobre kritike što za album, ali i za energične live nastupe koji su uslijedili. Osnovani su 2007 godine s kojom kraćom pauzom i par promjena u postavi. Za sebe kažu da sviraju southern stoner/grunge metal a Strahinja (vokal) i Bojan (gitara) su od samog početka članovi benda i sa njima vam donosimo intervju.


Intervju radila: Mira Andrić Links:
Odgovarali:
Strahinja Cerovina i Bojan Mijatović Concrete Sun @ facebook
Datum objave: 18.04.2013. Concrete Sun @ reverbnation
Copyright: Bosnian Metal Concrete Sun @ bandcamp
Fotografije: Concrete Sun facebook page
Domaća publika vas je imala priliku gledati 2011 u Banja Luci s domaćinskim bendovima Tankerom i Benefitom te mostarskim Korovom a u novembru prošle godine kao goste svirke "Mlade metal snage" u Sarajevu. Kakvi su vaši dojmovi s tih koncerata.
Strahinja: Prvo pozdav vama, a zatim i svima koji prate nas dosadašnji rad. Što se tice Banjaluke sta vise reći nego da jedva čcekamo da se vratimo i ponovo zasviramo tamo. Publika je bila super , bendovi su bili super, sve u svemu čista 10-ka. Isto to važi i za Sarajevo gde je bilo sjajno u klubu AG, i nadamo se skorom viđenju.
Domaći ali i dosta stranih muzičkih portala "Sky Is High" su ocijenili visokom ocjenom, kvalitetom 'oštro, čvrsto i dosljedno' s dosta muzičkog šaranja. Kako ste vi zadovoljni reakcijom publike i općenito napretkom benda?
Bojan: Moram priznati da je dobar osećaj kada citas recenzije i vidiš da neko zaista ceni tvoj trud i rad i da vreme koje si uložio u isti nije bilo uzalud. Ali jos lepši je osećaj kada sviraš uživo te pesme i posle svirke ti ljudi priđu i kažu 'Svaka čast, odlična svirka', ili nesto u tom maniru, tj. kada po izrazu nečijeg lica prepoznaš oduševljenje. Mene lično, a verujem i većinu ostalih muzičara, takve stvari veoma motivišu jer onda znam da to sto radim ima nekog smisla. Muzika je za mene najveći pokretac u životu i super je osećaj kada znaš da i tvoja muzika pokreće nekoga na isti način.

Strahinja: Za prvi album dosta dobar prolaz, kako kod publike tako i kod medija. Trudili smo se da u sto vise gradova pokažemo ljudima kako to izgleda uživo, i uglavnom su to bile dobre svirke i provodi. Naš južnjacki pohod se nastavlja dok god budemo mogli da stojimo na nogama i disemo. Izdanje "Sky Is High" je samo početak onoga sto ćemo vam ponuditi u budućnosti.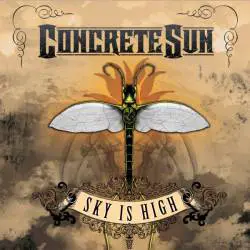 Koji vam je sljedeći potez za 2013, snimanje novog albuma? Ostajete li dosljedni stilu prvog albuma ili možemo očekivati neka iznenađenja?
Strahinja: Za nekih 20ak dana ulazimo u studio, tako da nam se sprema novi album. Bend je mnogo napredovao kako u sklapanju aranžmana tako i u kvalitetu same svirke. Nas najfriškiji clan je basista Stevan, koji je dosta novine uneo na bas linijama u pesmama. Novi album svakako donosi jos puno iznenadjenja od nas , i ubedjen sam da moze samo da proširi vidike nasoj budućnosti u smislu stvaralaštva.

Bojan: Kao sto Strahinja reče, bice iznenadjenja. Da ne otkrivam mnogo, reći ću samo da će ovaj album biti dosta energičniji od prvog. Iako se formalno deklarišemo kao 'southern stoner grunge', nikad se nismo ograničavali sto se tice žanrovskog izricaja, a to će se na novom albumu i osetiti.
Nedavno ste potpisali ugovor sa "Miner Recordings" recite nam nešto o tome i koliko vam znači ta suradnja?
Strahinja: MINER, sta reci nego da je to sjajna prilika da se izdaju bendovi sa područja bivse "Juge". To je tim, pre svega pun entuzijazma i želje za podsticanjem mladih snaga. Miner tim se svojski trudi da pokuša da što više ispromoviše svoje bendove, pored CD-a.U planu je stvarno invazija sa istoka. Dakle posle Novog Sada , tu je Kragujevac i za sada Šabac i Subotica, i to nije kraj festivalima koji planiraju da se održavaju svakog meseca u jenom gradu u Srbiji. To su planovi za početak , a kasnije možda i da se proširi cela priča na Balkan. I naravno što se tiče saradnje sa izdavačkom kućom MINER mi smo prezadovoljni , i toplo je preporučujemo svima.
Izdali ste spotove za "Last man under the sun" i "Silver tear" , oba spota su produkcijski dosta kvalitetna. Koliko je to bilo izazovno ostvariti s obzirom na stanje u Srbiji (u prvom redu financijsko)?
Strahinja: Kada bi gledali na finansijsko stanje u našoj državi mi ne bi uradili ništa. Tako da mi imamo pre svega prijatelje, i ljude kojima se sviđa naša muzika, od para koje zaradimo na svirkama mi finansiramo naše spotove i celokupan merch. Dosta je teško, ali mora se boriti i disati!
Koga biste izdvojili po zvuku vama srodnih bendova u regiji ali i općenito bendove na sceni?
Bojan: Mislim da Zagreb trenutno ima najjaču stoner scenu sto se Balkana tice. Mnogo dobrih bendova, i sto je jos bitnije, dosta publike za ovakvu vrstu svirke. Izdvojio bih Stonebride, Cojones, She Loves Pablo, Umor, Seven That Spells.. A od ostalih, recimo Beogradjani Dot The Eye su momci koji mnogo obecavaju, Consecration je vec dugo na sceni, Downstroy isto, Tanker, Putrid Blood, Obscured, Wolfram, Loud, Smallman iz Bugarske su me odusevili.
Strahinja: U, pa ima ih mnogo, npr. Benefit, Husta, Flintstoners, Dot The Eye, Loud, Tanker, She Loves Pablo, Wolfram... i tako do prekosutra (smjeh).
Koji su vam posebno značajni nastupi?
Bojan: Definitivno Sziget Festival, prošle godine smo nastupili kao headliner na Open Stageu i mogu reći da je to bilo jedno iskustvo za pamćenje. Pored toga dva puta smo nastupali na Exitu, 2010. i 2012.
Kakva je novosadska alternativna scena?
Bojan: Novi Sad je donekle na glasu kao punk-rock grad, dosta se sluša ta vrsta muzike, ali postoje mnogi bendovi raznoraznih usmerenja koji su trenutno aktivni. Što je veoma dobro, jer bi nam jako brzo postalo dosadno da svi sviramo istu muziku. (smjeh). U svakom slučaju, Novi Sad je dobro mesto ako želiš da počneš da sviraš u bendu.
Zahvaljujem se na izdvojenom vremenu za ovaj razgovor, puno sreće u daljnjem radu i za kraj neka poruka za čitatelje Bosnian Metala?
Hvala vama na pozivu. Poruka za one koji prate blog... Podržavajte mlade i stare bendove, idite na svirke, kupujte merch, širite dobar glas i držite se zajedno jer u suprotnom će nestati i rokenrola i svih nas. Rock on!