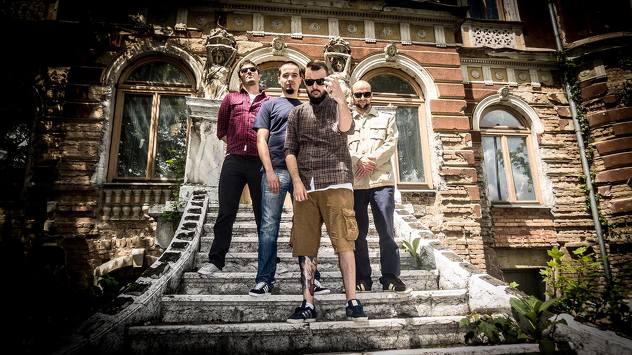 Sarajevski alt-bend Corbansick dobit će priliku da predstavi svoj prvi studijski album Shattered Skin publici festivala. Corbansick zakazao je nastup na ovogodišnjem Rastok Festu. Rastok Fest se održava 7. i 8. avgusta 2015. godine u Sportskom poligonu OŠ 1. mart u Jelahu, BiH. Corbansick, koji je trenutno u fazi promovisanja svog prvog studijskog albuma, nastupiti će u subotu, 8. augusta, zajedno sa grupama Jack The Ripper (BiH), Čvrge (SRB), Billy Andol (BiH), Pero Defformero (SRB) i Kontradikshn (SLO). Publika iz Jelaha, ali i iz cijele regije, koja posjeti Festival, imat će priliku poslušati pjesme sa prvog studijskog albuma benda Corbansick, koji nosi naziv Shattered Skin. Među pjesmama se nalazi i njihov prvi single Another Nobody, za koji su snimili i promotivni spot (
pogledaj ovdje
). Više informacija o bendu se može pronaći na zvaničnoj Facebook stranici grupe:
www.facebook.com/Corbansick
Pero Defformero je metal / turbofolk bend osnovan 1993. godine u Novom Sadu. Na početku vokal je bio Željko Jojkić, a 1995. godine nakon izdavanja prvog albuma umjesto Željka Dolazi Goran Biševac "Biške". Bend 1997. prestaje sa radom, da bi se okupili 2003. godine, a tri godine nakon toga snimili demo. 2008. godine ušli su u studio da snime drugi album Pero Defformero II koji je do sada ostao neobjavljen, a 2009. objavili su "Undergrand" i nakon toga par single-ova, a 2014 full length album "Jer To Liči Na Taj Način?".
Xeper je osnovan 2012. godine. Prvi nastup su imali 2013. godine na motorijadi u Puračiću. Od dolaska Mirze i Tarika zabilježili su još dvije svirke, prvu u tuzlanskom Palma klubu 15. decembra 2013. sa bendovima Mardraum, Decomposing Entity i Toxicdeath, na memorijalnoj svirci za Denisa Hasića (1986-2001), tragično preminulog brata gitariste Danijela Hasića, a drugu 6. marta 2014. u lukavačkom BBCC-u sa bendovima: Regaining The Crown i Peta Koksna. Denisu je posvećena i pjesma "Cold December Night". Postavu benda čine: Salkan Grbić (vokal), Danijel Hasić (gitara, vokal), Benjamin Hakić (gitara), Tarik Sakić (bass) i Mirza Muminović (bubnjevi).
Rastok Fest (RF) je muzički festival koji organizuje Jedinstvena organizacija mladih (JOM) iz Jelaha i bavi se pitanjima kulture i društvenog aktivizma mladih. RF se već 12 godina unazad uspješno organizuje i okuplja prije svega ljubitelje dobre muzike različitih žanrova ali i različite umjetnike i omladinske lidere/aktiviste iz cijele Bosne i Hercegovine i Balkana. RF je kreiran s ciljem promocije mladih neafirmisanih bendova, umjetnika i omladinskih lidera/aktivista kroz kreiranje neovisnog društvenog i kulturnog prostora otvorenog i dopadljivog za sve mlade ljude. Pored gore navedenih bendova, na Festivalu će još nastupiti i a WHEADY MILE (BiH), Tevarbulebra (SRB), Vrane Kamene (SRB), Bolesna Štenad (SRB), te XEPER (BiH).
Više informacija o festivalu se može pronaći na zvaničnoj web stranici festa:
www.rastok.ba